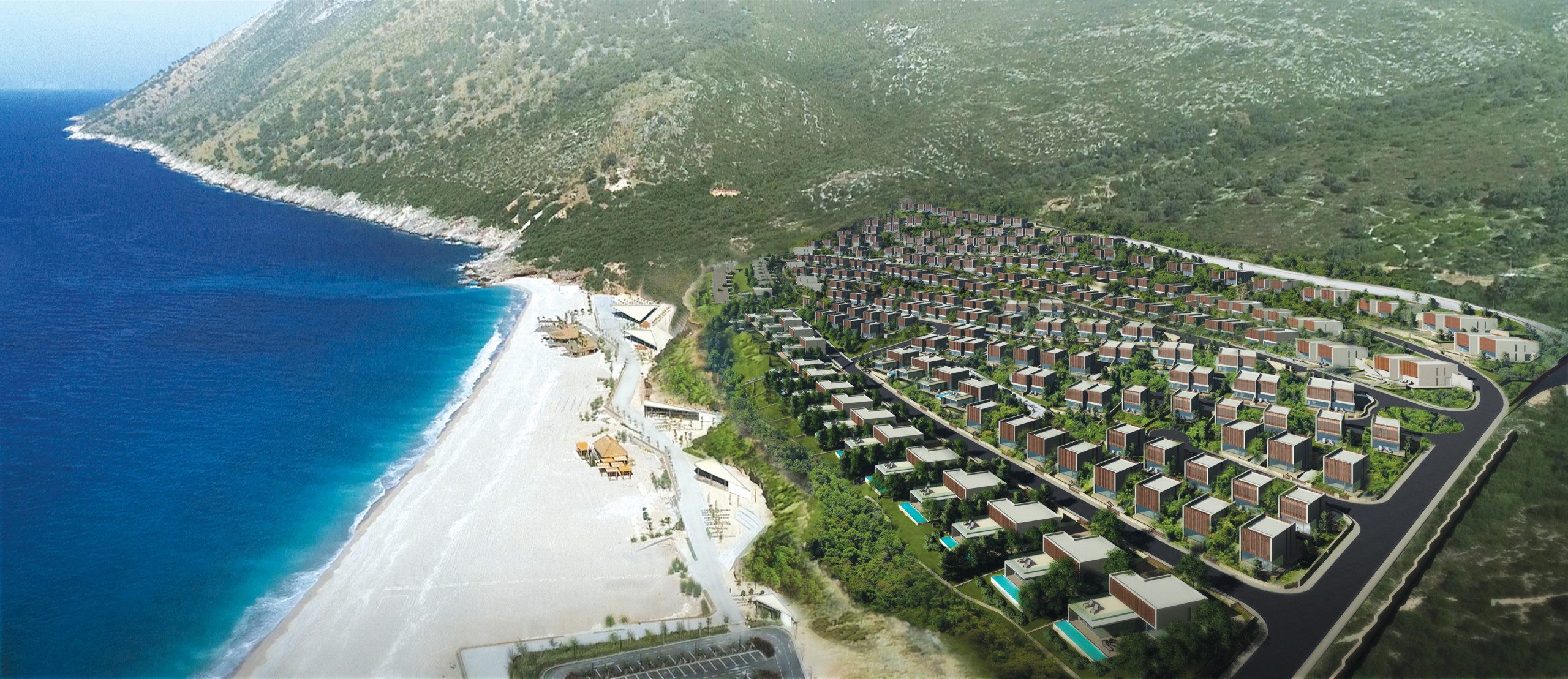 GREEN COAST
RESORT AND RESIDENCES
Green Coast – a brand new premium resort in Mediterranean – located in Palasa, Albania, one of the most picturesque places of the country's seaside; with a breath-taking Ionian sea view. Very good location with great natural & historical places to visit in the nearby area. All villas feature a sea view and many villas provide an additional mountain view. This project has brought a new standard to Albanian tourism. It features a beachfront promenade with various service units including beach bars and restaurants, a supermarket, and a sports center providing paragliding, tandem flights, water sports, etc. It is an investment of more than 100 million Є, a project awarded with the special strategic investor status by the Albanian Government.

PROJECT FEATURES
• A unique project in Albania, first of its kind
• Beachfront location
• The 1 km long Promenade is currently open to both residents and visitors offering different bars, beach bars and restaurants

• Very close to Vlora International Airport (52 km), planned to be built soon
• Well organized resort and residences, high privacy for all residents, security system and cameras 24/7
• Integrated services and entertainment structures

• 10 different typologies - 6 types of Villas and 4 types of 4 Family Villas (apartments). Private garden and dedicated parking.
• High quality of construction.
• One of the best resorts in Albania and in the Mediterranean Sea, with High return of investment.


VIEW
Imagine a place that inspires you with both sea view and mountain view. Green Coast Resort and Residences features breath-taking view of the Ionian Sea due to the beachfront location. Corfu and other Greek islands are clearly visible in the skyline. The impressive mountain view of Llogara pass and Çika Mountain is also part of the wonderful scenery that is great in the summer and becomes magical also in the winter months.

All villas in Green Coast geography a sea view and many villas provide as well a mountain view of the breath-taking Llogora pass. You can enjoy this view at every point of Green Coast Resort and Residences.


QUALITY
Green Coast villas feature a very high quality of construction according to the European standards.
Compared to other residences, Green Coast Resort and Residences is distinguished by its large internal streets, flat or slightly sloping elevation within parcels, private parking spaces with concrete drainage flies plus additional parking spaces for the guests, quality glass walls, windows, first quality ceramic materials for the bathrooms. In addition, Green Coast is characterised by a unique shading system called Brise-Soleil providing significant energy saving in the summer.


STYLE
The architecture of Green Coast Resort and Residences landscapes a Mediterranean minimalist style that provides:

•Functionality
•Contained surfaces
•Pale colours with the dominance of white
•Furnishing with clear lines
•Use of light materials
•Moderate absence of décor

Italian architecture Iraci Studio brought at Green Coast its best international experience from different projects worldwide.



HISTORY
In the classical antiquity it used to be a settlement of the Chaones, one of three ancient Illyrian tribes of Epirus, named Palaesti. There is also evidence that in 48 BC, during his pursuit of Pompey, Julius Caesar set foot and rested his legion at the beach of Palasa. He continued on to Llogara pass in a place later named Caesar Pass. In order to commemorate this special point, Green Coast has built a special monument in the entrance to bring the past back to life.

INVESTOR

Green Coast's Investor, BALFIN Group, is one of the most significant and successful investment groups in the Western Balkans region. Geographically, Balfin Group is present in Austria, Albania, Kosovo, Bosnia and Herzegovina, North Macedonia, Montenegro and the Netherlands, employing approximately 6,000 people.
The activities of the BALFIN Group include the development and management of real estate, retail, mining industry, banking, tourism, energy, logistics, etc. The BALFIN Group is growing steadily and having a positive impact over the nearby communities through economic development, employment growth and social investment.
PARTNERS