Accor, world leading hospitality group, and Green Coast Hotel Sh.p.k. are pleased to
announce the cooperation for the development of first MGallery hotel in the country. The
112-room hotel located in Palasa will welcome first guests in April 2024 and will mark an
important milestone for the Albanian tourism industry.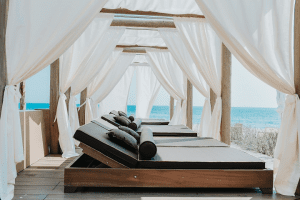 Accor's ambition to strengthen portfolio in Southeast of Europe does not stop, as the group introduces more brands to the local markets. The group has signed a franchise agreement with Green Coast Hotel LLC, part of Balfin Group, the most significant investment group in the country and the Balkans. The project will be a game changer in the tourism industry in Albania and will engrave deeper Albania's pin in the map of international tourism industry. A unique MGallery boutique hotel, first in the Ionian shores of the Mediterranean, will offer 112 luxurious rooms and suites full of local tradition combined with modernity and contemporary aesthetics. Bar and restaurant, signature SPA and private beach will create a premium exclusive boutique destination for all the guests.
Albania is a hidden gem in the Balkan region with amazing, picturesque destinations, a true place to be. Therefore we are happy to bring more of Accor brands to the country, wishing that more tourists could discover its glory. MGallery Boutique Collection provides an outstanding starting point for introducing local culture, tradition and history in a luxurious ambiance. We believe that the first MGallery resort in Albania will win the hearts of its guest thanks to its atmosphere and ideal holiday location – says Dilek Sizer, Development Director – South Eastern Europe Accor.
Green Coast MGallery will offer wide F&B outlets for the guests, such as: concept restaurant with breakfast area, destination lobby bar, executive club lounge, and VIP club. Hotel will also offer banquet and meeting options provided in spacious & airy meeting rooms, flexible spaces at the beach, pool and restaurant terraces. The guests will benefit from special features like green roof tops, private loggias and private beach. The hotel is expected to be a new international destination offering culture and art, history and experiences.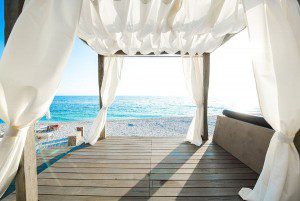 The company in charge of concept design of the hotel is a very prestigious architectural studio from Belgium. The hotel is expected to begin constructions during the last quarter of 2021. Albania has been visited by over 8 million tourists during the last two years and the country is showing high demand for quality and premium accommodation services.
MGallery Hotel Collection features boutique hotels, each with its own original design and unique stories to tell. Each destination provides an exceptional experience inspired by the essence of the local neighborhood, creating Memorable Moments inspiring lifelong memories. At the moment MGallery owns more than 100 boutique hotels allowing the guests to discover more than 30 destinations all over the world. In the city center, along the seashore, nestled within nature or set in extraordinary locations, the hotels of the MGallery Collection invite
every guest to explore the world and its splendors.
***
ABOUT ACCOR
Accor is a world leading hospitality group consisting of more than 5,000 properties and 10,000 food and beverage venues throughout 110 countries. The group has one of the industry's most diverse and fully-integrated hospitality ecosystems encompassing luxury and premium brands, midscale and economy offerings, unique lifestyle concepts, entertainment and nightlife venues, restaurants and bars, branded private residences, shared accommodation properties, concierge services, co-working spaces and more. Accor also boasts an unrivalled portfolio of distinctive brands and approximately 300,000 team members worldwide. Over 65 million members benefit from the company's comprehensive loyalty program ALL – Accor Live Limitless – a daily lifestyle companion that provides access to a wide variety of rewards, services and experiences. Through its Planet 21 – Acting Here, Accor Solidarity, RiiSE and ALL Heartist Fund initiatives, the group is focused on driving positive action through business ethics, responsible tourism, environmental sustainability, community engagement, diversity and inclusivity. Founded in 1967, Accor SA is headquartered in France and publicly listed on the Euronext Paris Stock Exchange (ISIN code: FR0000120404) and on the OTC Market (Ticker: ACRFY) in the United States. For more information visit group.accor.com or follow Accor on Twitter, Facebook, LinkedIn and Instagram.
ABOUT BALFIN GROUP
BALFIN Group is one of the most significant and successful investment groups in the Western Balkans region present in development and management of real estate, retail, mining industry, banking, tourism, energy, logistics, etc. BALFIN Group is present in Austria, Albania, Kosovo, Bosnia and Herzegovina, North Macedonia, Montenegro and the Netherlands. International partnership has always had a large focus since the early beginnings. The Group and its companies are always striving for innovation and excellence in all areas and industries. Employing more than 5,000 people. The BALFIN Group is constantly growing and aims at the sustainable and long-term improvement of communities through economic development, employment growth and social investment. Green Coast Hotel is part of BALFIN Group.