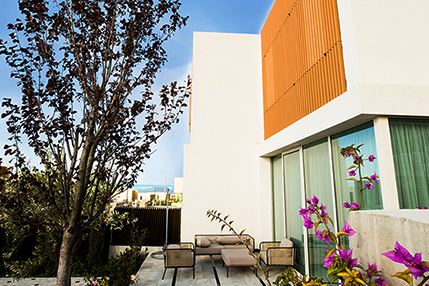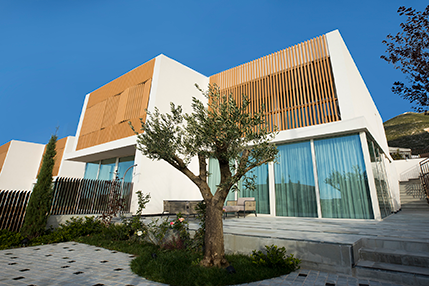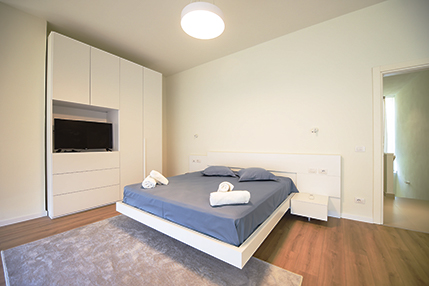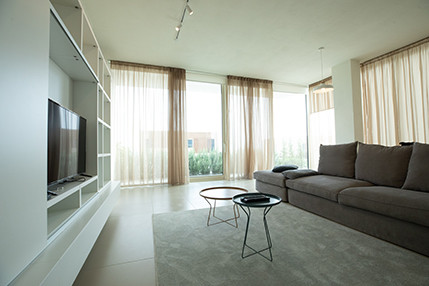 Twin Villas are found at the heart of Green Coast, at various positions of the project. From the bedroom windows, one can enjoy breath-taking views of the sunrise over the mountain and sunset on the Ionian Sea. Its position aids in the intimacy of a home away from home. Each villa has its own parking space.
Total area:   

 

150-171m²

Total area with land:       

 

192-473m²

Open parking places:  

2

Number of floors:

2

Ground floor:

Dining area, Kitchen area, Storage Room, Toilet, Veranda & Courtyard

First floor:

Bedrooms 2, Toilet, Balcony, Veranda
Air Conditioning    
In-room safe
Mini-bar, for a fee
Coffee maker / tea service
Outdoor spaces: balcony
Free Wi-Fi
Flat – Screen TV
Dining area
Wardrobe/closet
Kitchen
Dishes, cutlery
Oven
Refrigerator
Dishwasher
Linens
Bath amenities
Iron and ironing board
Hair dryer
Slippers
Washing machine
For more information about Green Coast, please use the form below.
It's just easier and profitable owning a house in Green Coast Resort & Residences thanks to the tailored solutions offered to you.
The renting Program aims for a quick return on your investment. This program is fully managed by our dedicated team and operates upon the signing of a management agreement. Being present in well-known resorts around the world, the Renting Program is fully operational also in Green Coast Resort and Residences. Unique opportunity for Green Coast residents to generate incomes, by including your villa in a pool available for rent, managed by our team.
Please refer to this booklet regarding the renting program.
In collaboration with Interval international, this solution enables all Green Coast residents to exchange their vacation residences within an extended network of more than 3,200 resorts located all over the world including the US, Bali, Tenerife, Dubai, Cornwell, Mexico, Brazil, Cayman Islands and many exotic locations. Well-known resorts, indisputable worldwide tourism brands such as Marriott, Diamond Resort, Four Seasons, Anantara Club, Plaza, etc, for decades, are members of this platform by operating successfully with Interval International. Established in 1976 with subsidiaries in 14 countries, Interval International operates in 80 different locations across the US, Europe, Asia, and South America by becoming a leader of this multimillion-dollar industry.

The enrolment of Green Coast in Interval International offers a unique opportunity to Green Coast Resort and Residences clients, who with just a minimal quote can benefit from wonderful vacation experiences in resorts located all over the world members of this platform. Each owner or co-owner (in case of joint ownership purchase and 'timeshare') who bought or will buy a villa, now can exchange his house with villas in the best resorts in the world. The same is valid also for foreign tourists of the resorts in question who choose to spend their vacations at Green Coast Resort & Residences.
For more information, please contact your sales representative.
Shared holiday ownership gives you the opportunity to purchase a lifetime of holiday at today's prices. If you aspire to a second home lifestyle, you can afford it by buying shared holiday ownership properties without the financial commitment of a wholly-owned second home purchase.
For more information, please contact our sales representatives.
In collaboration with selected banks in Albania, Green Coast offers the possibility of loan financing of up to 70 %. No initial collateral is needed. This initiative is valid for all individual villas, twin villas, and 4 family villas.
Mortgage loan criteria  

 

Value (for the above typologies of villas)

Percentage of bank financing  

Up to 70% of the price of the property

Loan duration 

Up to 20 years

Collateral

No initial collateral required as Green Coast guarantees the loan for you. Upon the end of construction and issue of the property deed, your new house is used as collateral


Currency

EUR

Annual interest rate

Fix 2.9% for the first year
Euribor + 3.9% for the remaining period, with a minimum of 3.9%

Bonus

VISA GOLD Credit Card with a preapproved limit of 1,000 EUR

• Who can benefit from this loan?
Any Albanian or foreign citizen can apply as an individual, company, employed, or self-employed.
• How can I apply?
For further information, please contact Green Coast sales representative, who will inform you about the next steps and will mediate the communication with the respective banks.